Our local OSCAs winners, ECB Coach Award winners and those given a special recognition awards for their outstanding volunteering were invited to spend the day at Essex CCC watching a first-class game – day 2 of the 4-day match against Surrey – enjoyed lunch and tea and were presented with their certificates on Tuesday 17th September.
Over 100 people were in attendance in what turned out to be a fantastic day weather wise and a good day on the field as well.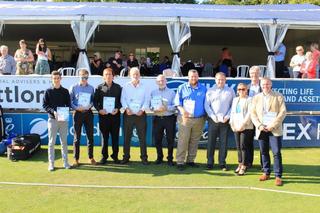 The NatWest OSCAs - the Outstanding Service to Cricket Awards - are aimed at recognising volunteers who give so much of their time to supporting cricket at recreational level. The awards reward and identify those individuals who volunteer at club, school, district and county level to maintain and increase levels of participation and enjoyment of cricket.
Our OSCAs winners for 2019 were:
Gary Freear - Heartbeat of the Club
Brain Leonard - Lifetime Achiever
Wayne Hardy - Pro-Active Leadership in Cricket
Thriplow Cricket Club - Most Inspiring and Diverse Offer
Tom Woodman - Young Volunteer (19-25)
Josh Porter - Young Volunteer (14-18)
Our recognition awards for 2019 were:
Wilburton Cricket Club - NatWest CricketForce
Brian Symes - Groundsman
Histon Cricket Club - All Stars Cricket
Pat Ringham - Outstanding Services to Cricket in Cambridgeshire
Graham Sneath - Outstanding Services to Cricket in Cambridgeshire
Mick Ketteridge - Outstanding Services to Cricket in Cambridgeshire
Mick Douglas - Outstanding Services to Cricket in Cambridgeshire
Tony Goryn - Outstanding Services to Cricket in Cambridgeshire
Our ECB Coach Award winners for 2019 were:
John Reynolds - Coach of the Year
Jamie Seabrook - Young Coach of the Year
Emma Hardy - Outstanding Contribution to Coaching
City of Ely Cricket Club - Coaching Club of the Year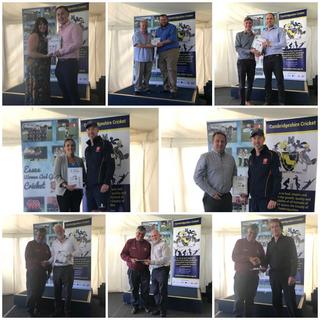 Cambridgeshire's Head of Cricket Development said: "I have received some wonderful feedback; everyone had a fantastic day. The day was a small thank you to the team of volunteers who contribute so much to this wonderful game."