Chance to Shine Street Cricket is coming to March, offering cricket for young people using street spaces in local communities. We have teamed with Young People March, March Town Cricket Club, Active Communities Fenland and Chance to Shine to offer this exciting opportunity. Our community coaches, along with coaches from March Town CC will be delivering this fast paced version of the game, with six players per team and 20 balls per innings – it's Cricket's answer to five-a-side football.
Bring your friends, wear what you want, no equipment needed and just turn up and join in for FREE.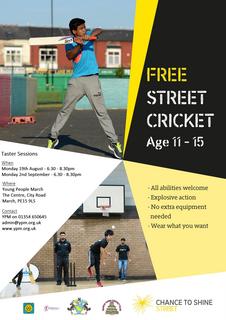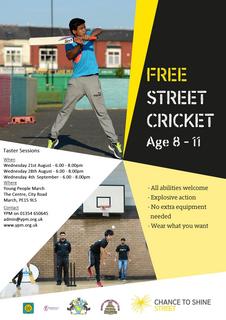 Chance to Shine Street is an inner-city cricket initiative that uses the game to promote social cohesion and create opportunities in diverse communities.
At sessions, young people play a fast-paced version of tape-ball cricket, using a tennis ball wrapped in electrical tape. Each innings last for 20 balls and games last for just 20 minutes. It needs very little cricket equipment and is ideal for inner-city venues.
For more information, please check out the Chance to Shine - Street Section of the website.