Schools all over the country enjoy a week of cricket-themed activity in both the classroom and playground during Yorkshire Tea National Cricket Week. It is a week when we all celebrate cricket in schools. This year Yorkshire Tea National Cricket Week will run from 22nd - 26th June 2020.
Over 1,600 schools take part in this Chance to Shine event every year and turn their timetable over to cricket. Schools are provided with cross-curricular cricket lesson plans, from teaching coordinates of a cricket field in Maths to pinpointing cricket playing countries in Geography.
2020's National Cricket Week marks the seventh year of partnership between Chance to Shine and Yorkshire Tea as we continue to inspire young people to play cricket through a host of fun, cricket-themed online activities.
The resources, which will be published daily from 22nd June here , will be accessible to children of all abilities, whether they're at home or at school and will require minimal specialist equipment. The schedule for the week is below.
With many pupils still at home, parents are also being encouraged to take part in National Cricket Week with their children and encouraged to share their activities on social media, using #NationalCricketWeek, for a chance to win some proper amazing prizes. Every day, parents and teachers will have the chance to win cricket equipment and supplies of tea to keep them powered for the week!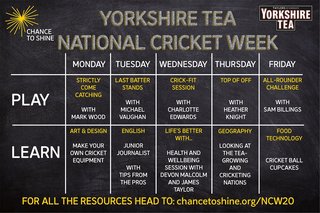 To take part on social media follow
Twitter @Chance2Shine or @CambsCricket
Facebook @chancetoshinecricket or @CambridgeshireCricket
For more info on National Cricket week please click here
Cambridgeshire Cricket would love to hear your planned cricket activities during National Cricket Week. If you are planning an activity please let us know by tweeting @cambscricket and use the #NationalCricketWeek
For more information or to get your school involved in the programme, please contact:
Matthew Morley
Cricket Development Manager (Education)
Email: matt.morley@cambscricket.org.uk
Mobile: 07767 660022